Product
Freewave / Wave Onshore / Freemove
6 battens in the large sizes, 5 battens in the smaller sizes, the Move offers plenty of power and huge amounts of stability. Whether its flat water blasting, bump and jump or waves, the Move does it all.
The Move has proved over the years to be the most successful sail in our line up. Test winner around the world, its pedigree is top class. Morphing through the sizes from a 5 batten power wave in the 4.2 through to a 6 batten blaster in the 7.2, each size of the Move is designed to maximise the conditions. In the smaller sizes this means control, whilst always providing enough power to get the rider moving quickly. As the sizes increase the sail smoothly changes towards more flat water usage, with the 6.7 and 7.2 offering a more locked down blastabilty. Every sail is highly tuneable and has an unrivalled range.
This is for the rider that is after power, drive and stability and wants to maximize any conditions, on any board. From a large Firemove to small Wave Cult.
Sizes: 5 Battens – 4.2 / 4.7 / 5.2 / 5.7 / 6.2
Sizes: 6 Battens – 6.7 / 7.2
Item N°/Article Code: 4620002
Color:
Description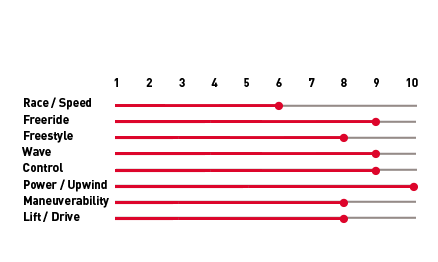 Features
• 7.2 / 6.7 – 6 batten blasters with a sporty throw-about feel.
• 6.2 / 5.7 – 5 batten power sail to bump, jump and blast.
• 5.2/4.7/4.2 – 5 batten power wave/freestylewave sail.
• NEW smaller lighter finger clew design with 3D moulding.
• NEW lighter weight foot and leech design.
• Customised printed X-ply
• 3D moulded tack fairing.
• Head curve – Reduction in the top batten length to reduce swing weight at the top of the sail.
• Cross panel construction – Using panel layout to give heavy-duty support along load lines.
Technology