Product
As light as it gets
Onshore Wave PRO
The lightest yet toughest technology of construction a wave board can be built . As our custom factory keeps making progress not only in terms of shapes and design but also in terms of new construction technologies, the reflections of these developments go directly into the production line. We have created a separate full custom scaled production line with only special materials used and a special finishing level, to produce the lightest and best performance wave boards in the market today.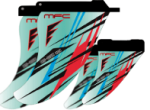 | | |
| --- | --- |
| Volume | 75Lts |
| Size (cms) | 230×56 |
| Fin | MFC QUAD SET Q5 300 CNC G-10 |
| Fin Box | US rear/slotbox side fins |
| R•S•S | 3.7-5.2 |
| Weight | 6.4 kg |
Description

The do everything wave board. Great at making the most out of any conditions, from bad through to perfection. The Wave Cult does it all for me.
Features
New full carbon extra lightweigh Mast track – 2 x 15 cms adjustable new Fin Slot Boxes.
Technology
EPS / Deck in Full PVC Herex 100 3 mm sandwich with Innegra/Carbon 165 grms and wood sandwich heel sandwich /Bottom in Full PVC Herex 100 3 mm sandwich with Biaxial Glass 160 gramslayup,reinfircements with 2 x PVC stringers 5 mm omega construction/ outside rail band with glass 160 grams.