The HI-FLIGHT sup and ws foilboard is designed to allow an easy approach to sup and windsurf foiling and progress further with controlled and accessible performance.
The HI-FLIGHT is 150 lts in volume and has a size of 240x 78 cms ( 7'9" x 30 3/4"); we have found great advantages in using a longer and thicker board shape.
For windsurfing a moderate width of 78 cms keeps the board easy to start planing and foiling. It is very controllable when using it for pure freeriding (using it only with front straps in) or even strapless without harness lines on your boom!
For sup foiling this bigger shape gives extra stability when paddling and allows a faster positioning on the line up, catch the right wave at the right speed and getting the necessary momentum to avoid out of control take offs.
A straight rocker line with a dead flat tail section, helps getting immediate speed and reduces the problem of excessive slowing down on touchdowns
Marked beveled edge on the nose section of the rails all the way to the hydrofoil base plate attachment point. This special rail shape allows to keep momentum when foiling and further reduces the impact resistance on touch downs
A pronounced edge of the concave deck marks the limit of your front feet positioning when riding strapless
The crocodile skin 3 mm eva deck has a striped color coded design (from nose to tail: orange/black/gray and white); the gray stripe area only uses a diamond grooved texture to recongnize the correct position of your back foot directly on top of the foil plate
The two US box slots in the bottom will allow the foil plate to be moved back and forth and achieve the correct foil placement when sup foiling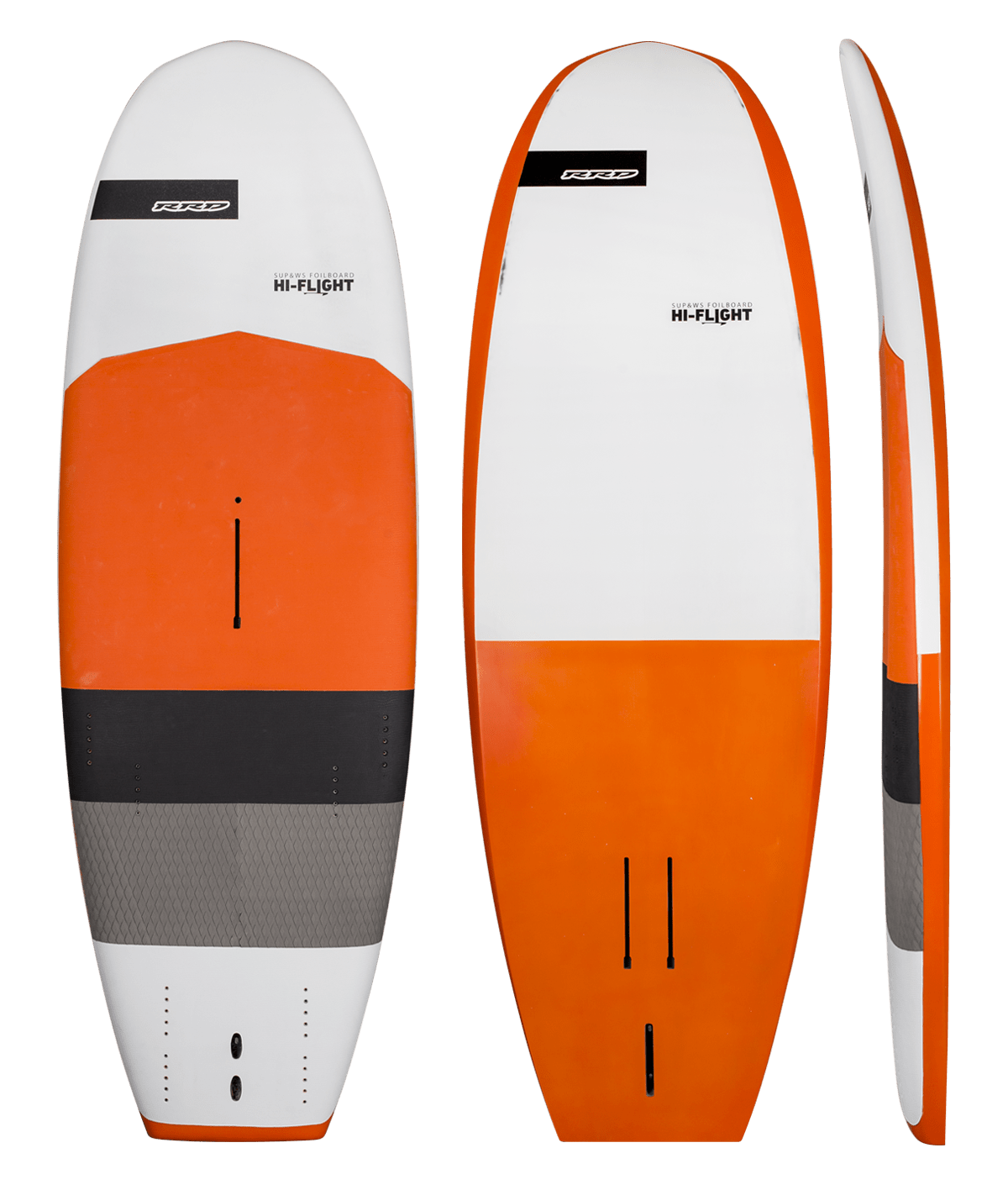 | MODEL | SIZE "CM" | VOLUME (LTS) | STD WEIGHT ±5 "KG" | REC. SAIL (RSS) | FIN + BOX SYSTEM | ARTICLE CODE |
| --- | --- | --- | --- | --- | --- | --- |
| HI-FLIGHT WS/SUP FOILBOARD | 240x78cm | 150 | 9.4 TBC | 4.0-8.0 | FOILBOX + 2 X 10' US BOX FOR FOILPLATE | 24HFWS79 |