STRAPPED-IN SPECIAL KITESURFBOARD
Designed, tested, and developed by Ralf Bachschuster. Specifically created to be used for strapped-in riding, these phenomenal sticks are very fast, securely grip the water, and deliver an abundance of hold in the most extreme conditions. With a slightly wider outline in the middle with narrow rounded pin tail to improve top speed, the Barracuda delivers great turning potential with plenty of grip at high speeds. The full mono-concave hull with heaps of rocker on the tail makes planing fast and holding control on choppy waters a breeze.
Developed and tested in Cape Town by one of the most influential and radical kiteboarders in the South African kite scene, the Barracudas are fast boards that were born to handle full power!
Slightly wider outline in the middle with narrow rounded pin tail to improve top speed and allow great turning potential with plenty grip
Full mono-concave hull with heaps of rocker on the tail. Planing fast and holding control on choppy waters
Thicker volume mid section in between your feet to allow floatation and keeping momentum at lower speed
Thin rail profile on nose and tail to allow best grip at high speed and lower the volume to keep the weight down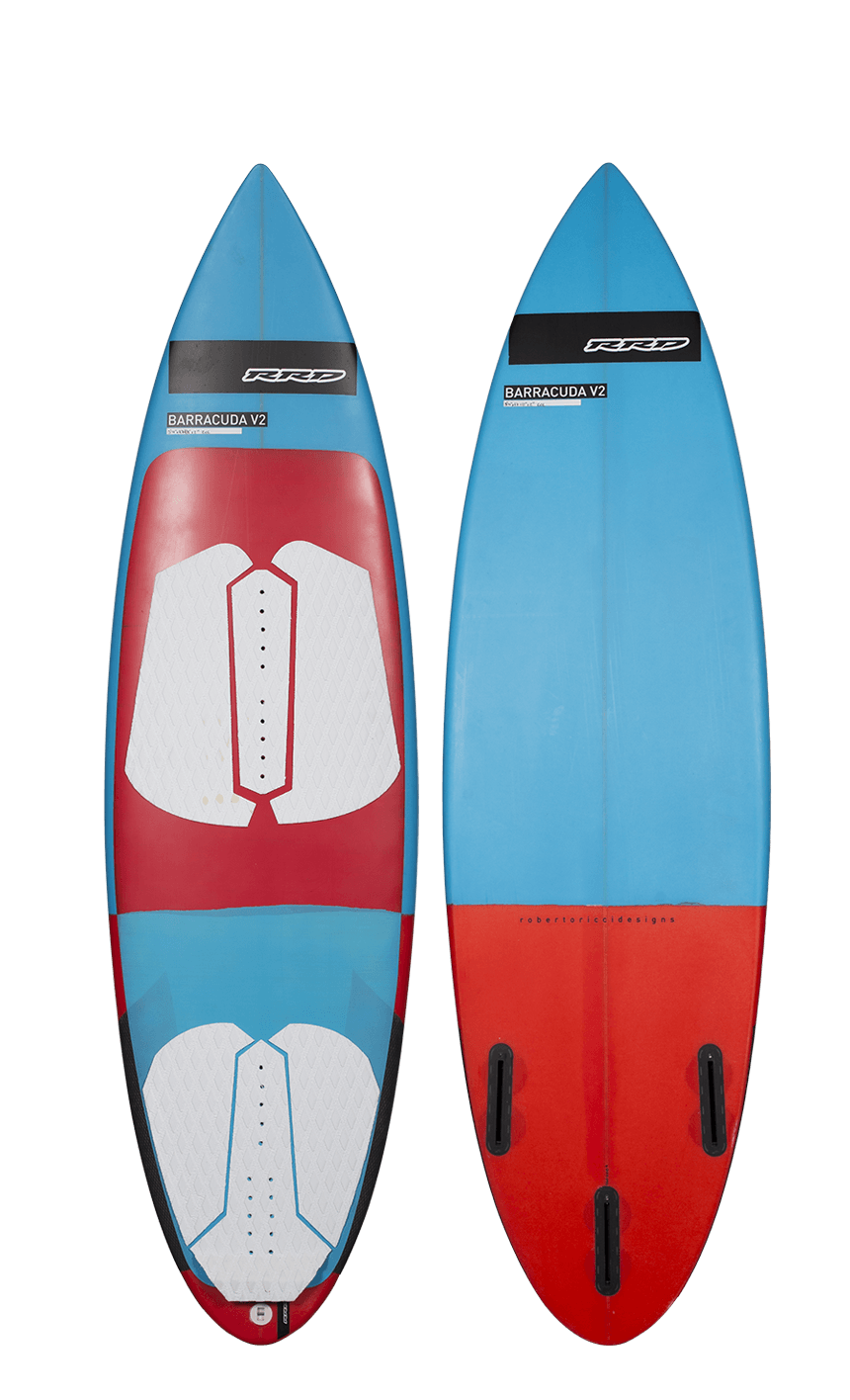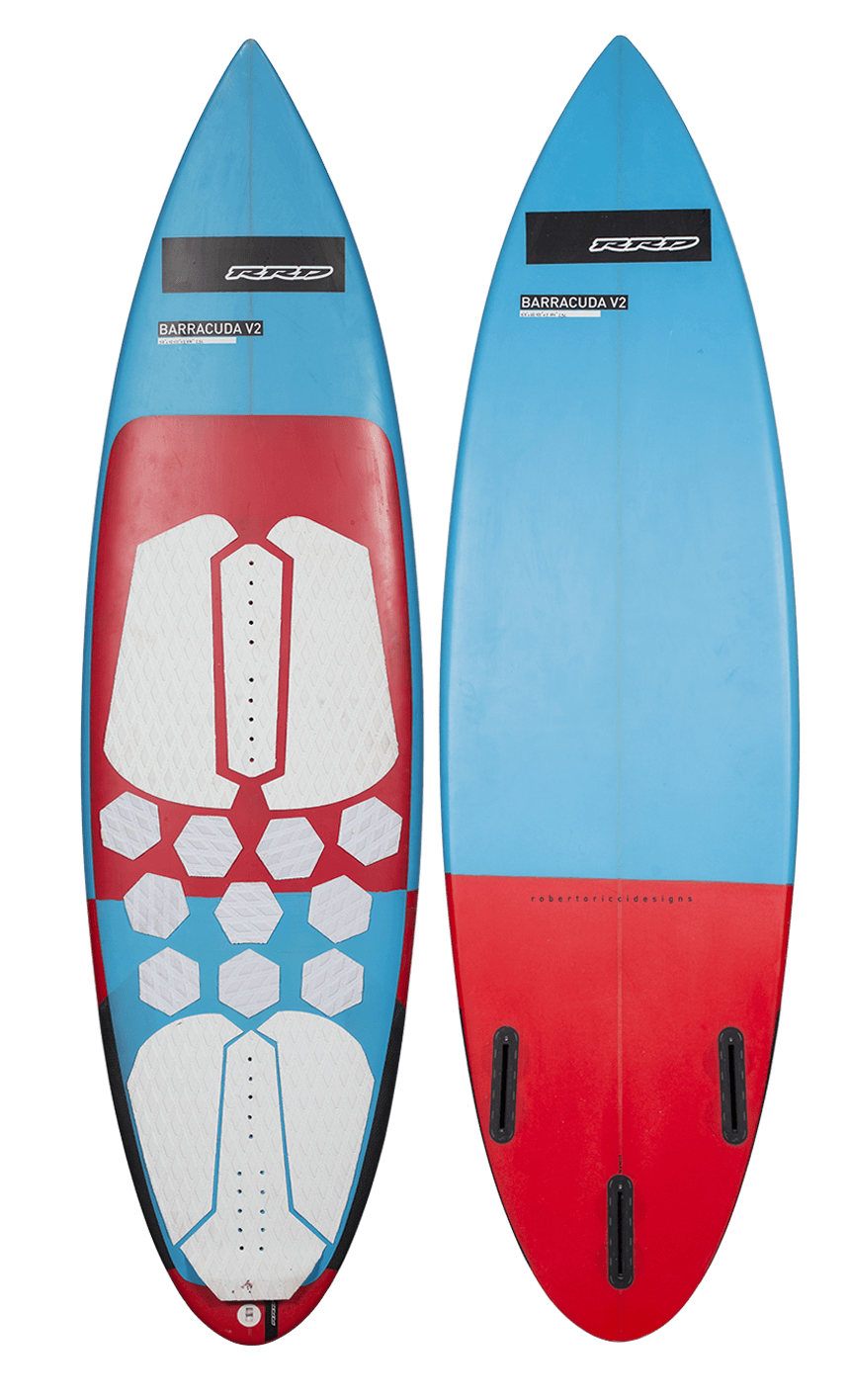 | MODEL | SIZE | VOLUME | REC. WEIGHT | BOARD WEIGHT | FINS (SOLD REPARATELY) | ARTICLE CODE |
| --- | --- | --- | --- | --- | --- | --- |
| BARRACUDA 5'4″ CLASSIC V2 | 5'4″ x 17 1/2″ x 2″ | 21 | 45-65KG | 2.9 KG ±6% | EDGE FINS – Thruster set "S" | 21BAK54 |
| BARRACUDA 5'6″ CLASSIC V2 | 5'6″ x 18 " x 2 1/8″ | 23 | 55-75KG | 3.1 KG ±6% | EDGE FINS – Thruster set "M" | 21BAK56 |
| BARRACUDA 5'8″ CLASSIC V2 | 5'8″ x 18 1/2″ x 2 1/4″ | 25 | 60-80KG | 3.2 KG ±6% | EDGE FINS – Thruster set "M" | 21BAK58 |
| BARRACUDA 5'10" CLASSIC V2 | 5'10" x 18 7/8″x 2 1/4″ | 26 | 65-85KG | 3.3 KG ±6% | EDGE FINS – Thruster set "M/L" | 21BAK510 |
| BARRACUDA 6'0″ CLASSIC V2 | 6'0″ x 19 " x 2 1/4″ | 27 | 70>95KG | 3.4 KG ±6% | EDGE FINS – Thruster set "L" | 21BAK60 |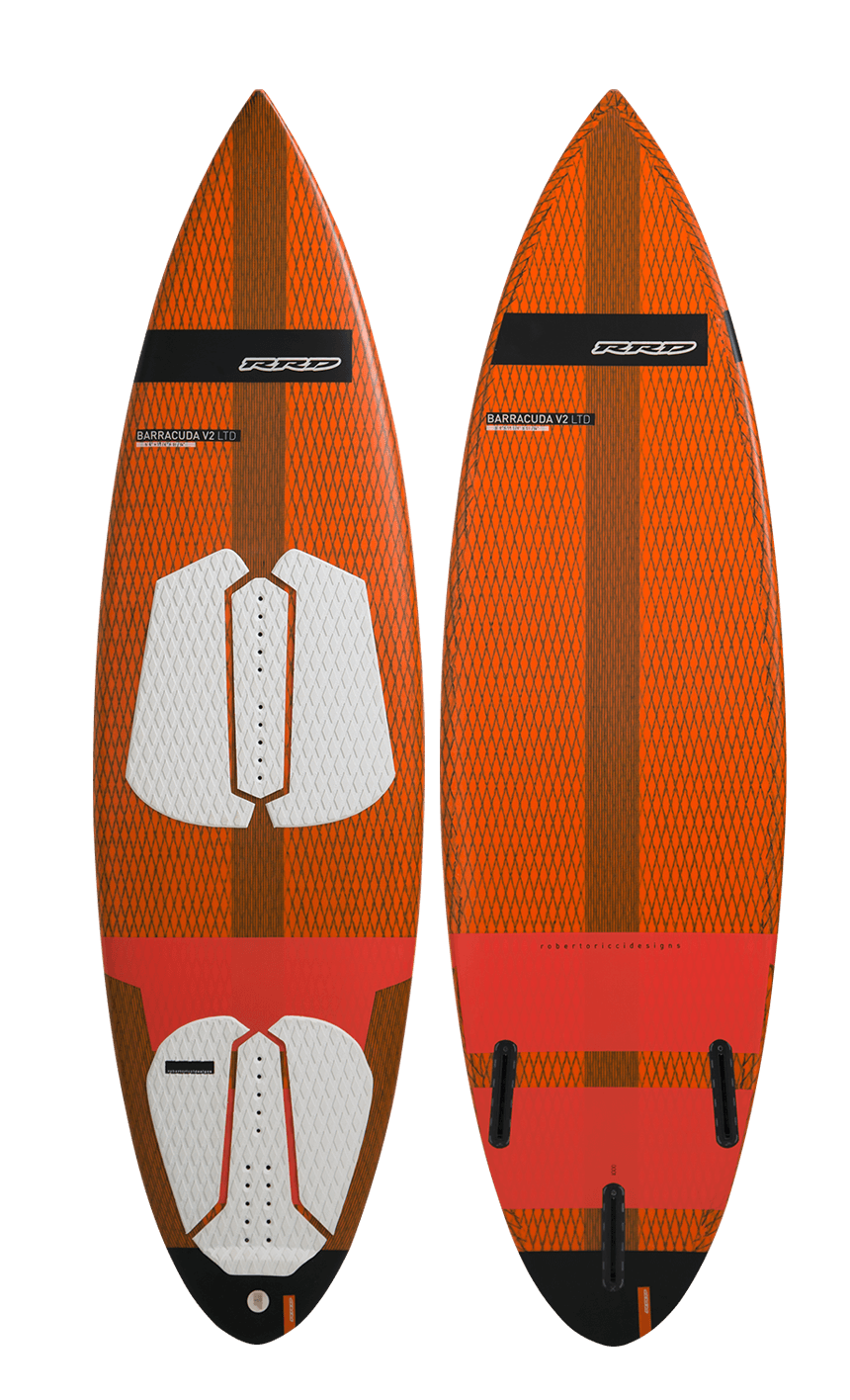 | MODEL | SIZE | VOLUME | REC. WEIGHT | BOARD WEIGHT | FINS (SOLD SEPARATELY) | ARTICLE CODE |
| --- | --- | --- | --- | --- | --- | --- |
| BARRACUDA 5'8″ LTD V2 | 5'8″ x 18 1/2″ x 2 1/4″ | 25 | 60-80KG | 3.0 KG ±6% | EDGE FINS – Thruster set "M" | 21BAK58L |
| BARRACUDA 5'10" LTD V2 | 5'10" x 18 7/8″x 2 1/4″ | 26 | 65-85KG | 3.1 KG ±6% | EDGE FINS – Thruster set "M/L" | 21BAK510L |