PROGRAM: STRAPLESS SURF/FREESTYLE
The C.O.T.A.N. (cut off tail and nose) V3 has only undergone minor changes compared to the previous versions. For those who don't know, the COTAN is a high performance board that carries less length and momentum in comparison with a traditional board shape. This shape allows you to feel exceptionally free and fast in everything you do. The reason this shape is magic is simple, it rips!
The V3 has a newly redesigned tail shape with wingers and rounded fishtail ends. The reduction of area in the last section of the tail, behind the wingers, has allowed improved turning at high speeds, when riding waves, or when pushing to get the maximum pop out of your freestyle strapless sessions. The new Cotan is also slightly thinner, only in the tail area, to really boost the pop effect when jumping on flat water. It's now possible to really sink that tail and "stop" the board before you send the kite!
AVAILABLE IN 3 different sizes – all equipped with 5 fin boxes.
*Pro Tip:
When deciding what size Cotan to choose, we recommend going 5 or 6 inches shorter than what you normally ride on a classic surfboard shape. 
Redesigned tail shape with wingers and rounded fishtail ends, offers precise control, improved turning, and increased pop potential.
Deep concave throughout the whole board with a flat tail released by a progressive rocker with tail kick
Thin rails from nose to tail, super thin profile throughout
Five fin boxes, so you can choose between thruster or quad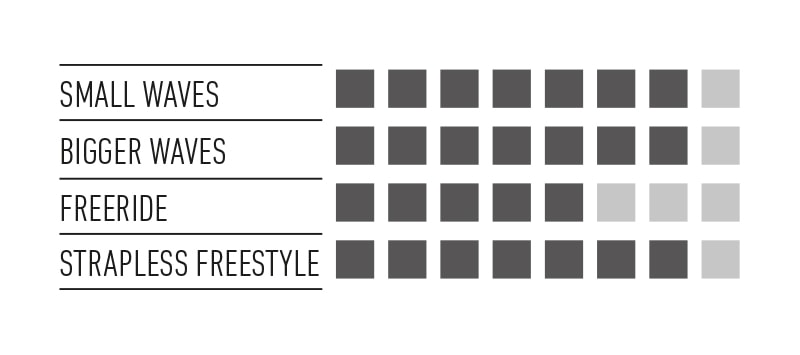 SIZES: 5'0" – 5'2" – 5'4"
UC (United Cores of RRD) TECHNOLOGY
Maximizing lightweight does not only mean making a light board, but making a light board that LASTS. This is what we accomplished with the new UC construction; the updated & improved version of the LTD technology. The EPS core is re-known for lighter weight/strength ratio and memory compared to PU foam but it has one big limit, it absorbs water in case of a hole or a crack through the laminate.
Fortunately, we have put together the best of the both worlds. In order to accomplish this feat, we have cut a 4 cms wide slice that runs throughout the entire outline of the board and have replaced the EPS external outline with 2 x PU outline slices that are glued to the EPS core. By adhering the PU to the EPS, we have created a 4 cms wide "waterproof" band that covers the entire rail, nose, and tail areas, keeping them totally waterproof in case of a crack through the laminate. 
The EPS core covers 80% of the board and creates a lively and buoyant center while the PU foam slices on the rails cover about 20% of the total foam volume. The PU rail slices combined with the deck and bottom carbon stringers laminated over the EPS core create a fantastic and unique pop and flex feel.
The Carbon net of the previous LTD construction has been modified with the use of a stronger but more flexible net. This new net is made with Innergra fibers, crossed at 45°, and combined with unidirectional, red colored, polyester fibers that keep the maximum flex from nose to tail. To finish the board off, and to keep it looking amazing for a long time, it is laminated with premium UV resistant Epoxy Resin formulated with a 30% Biodegradable mix. The new United Cores of RRD (UC) construction will provide that lightweight, sharp, precise EPS feel with the added bonus of longevity and durability.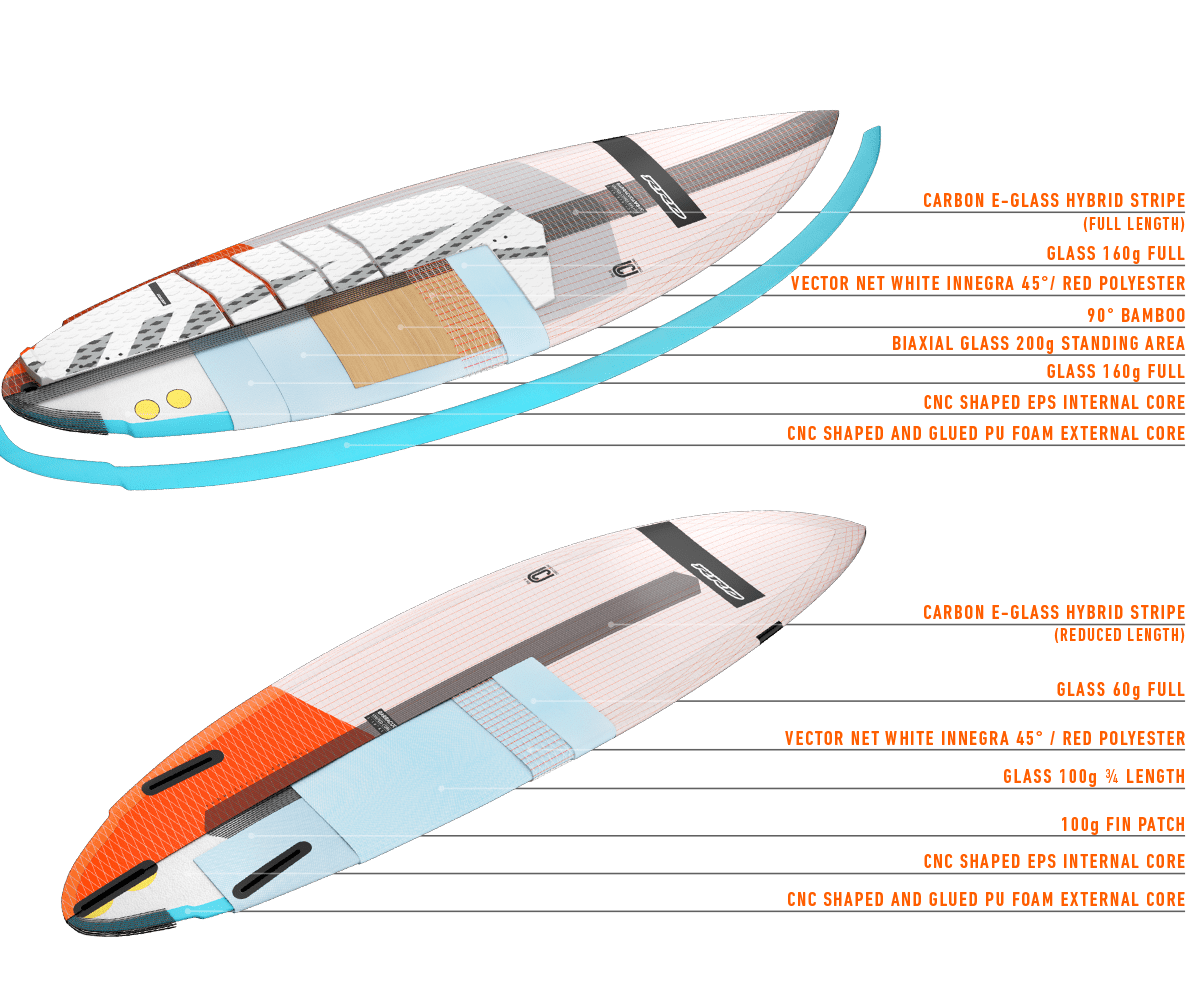 | MODEL | SIZE " | VOLUME "LTS" | FINS | ARTICLE CODE |
| --- | --- | --- | --- | --- |
| COTAN V3 UC 5'0″ | 5'0″x17 1/2″x2″ | 20 | K4 for RRD Thruster Set | 23COT50UC |
| COTAN V3 UC 5'2″ | 5'2″x18″x2″ | 22 | K4 for RRD Thruster Set | 23COT50UC |
| COTAN V3 UC 5'4″ | 5'4″x18 1/2″x2 1/8″ | 24 | K4 for RRD Thruster Set | 23COT54UC |
K4 X RRD – THRUSTER SET
INCLUDED
SIZES: 5'0" – 5'2" – 5'4"
CLASSIC PU (The Real Surf Feeling) TECHNOLOGY
The Classic PU construction has been developed to create pure surfboards for pure wave riding and to allow control over choppy waters. We have improved the weight and strength of the boards this year. We are now using a hi-volume lightweight pigment in the resin. This type of resin fills up the holes in the foam and reduces the amount of resin content in the glass fibers, making the boards lighter. The Classic boards have low fiber memory and low foam memory at the same time. This low memory gives our boards a proper surfboard feel. We recommend the Classic PU technology to the riders who love a comfortable ride which this construction provides through its flexibility.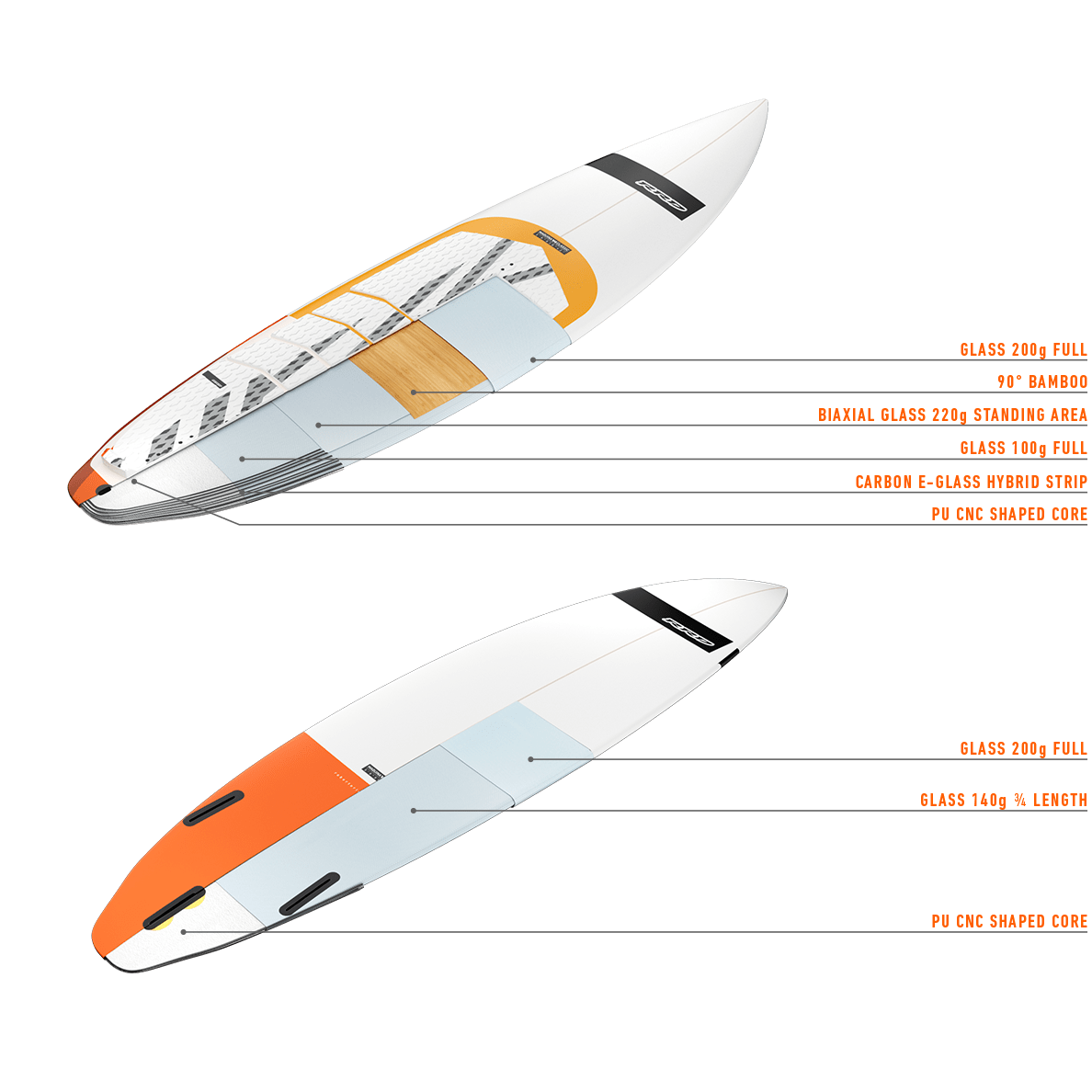 SPECS C.O.T.A.N. V3 CLASSIC
| MODEL | SIZE " | VOLUME "LTS" | FINS | ARTICLE CODE |
| --- | --- | --- | --- | --- |
| COTAN V3 CLASSIC 5'0″ | 5'0″x17 1/2″x2″ | 20 | K4 for RRD Thruster Set | 23COT50 |
| COTAN V3 CLASSIC 5'2″ | 5'2″x18″x2″ | 22 | K4 for RRD Thruster Set | 23COT52 |
| COTAN V3 CLASSIC 5'4″ | 5'4″x18 1/2″x2 1/8″ | 24 | K4 for RRD Thruster Set | 23COT54 |
K4 X RRD – THRUSTER SET
INCLUDED
LTE (Built Tough, Lasts Long) TECHNOLOGY
The new LTE technology comes straight from the ultimate molded surfboards technology which consists of a high definition EPS core, made with a high definition "Super EPS" mold, which is then injected with 36 Kgs/m3 density bits. This phenomenal core is so strong that you could ride it on the water without any lamination on it!! The core has heel recesses incorporated into the deck of the boards, thus creating the perfect placement for EVA heel shock absorbers to prevent heel dents. The Full Glass layup makes the board super flexible to ride and really strong to impact resistance, creating unmatched durability.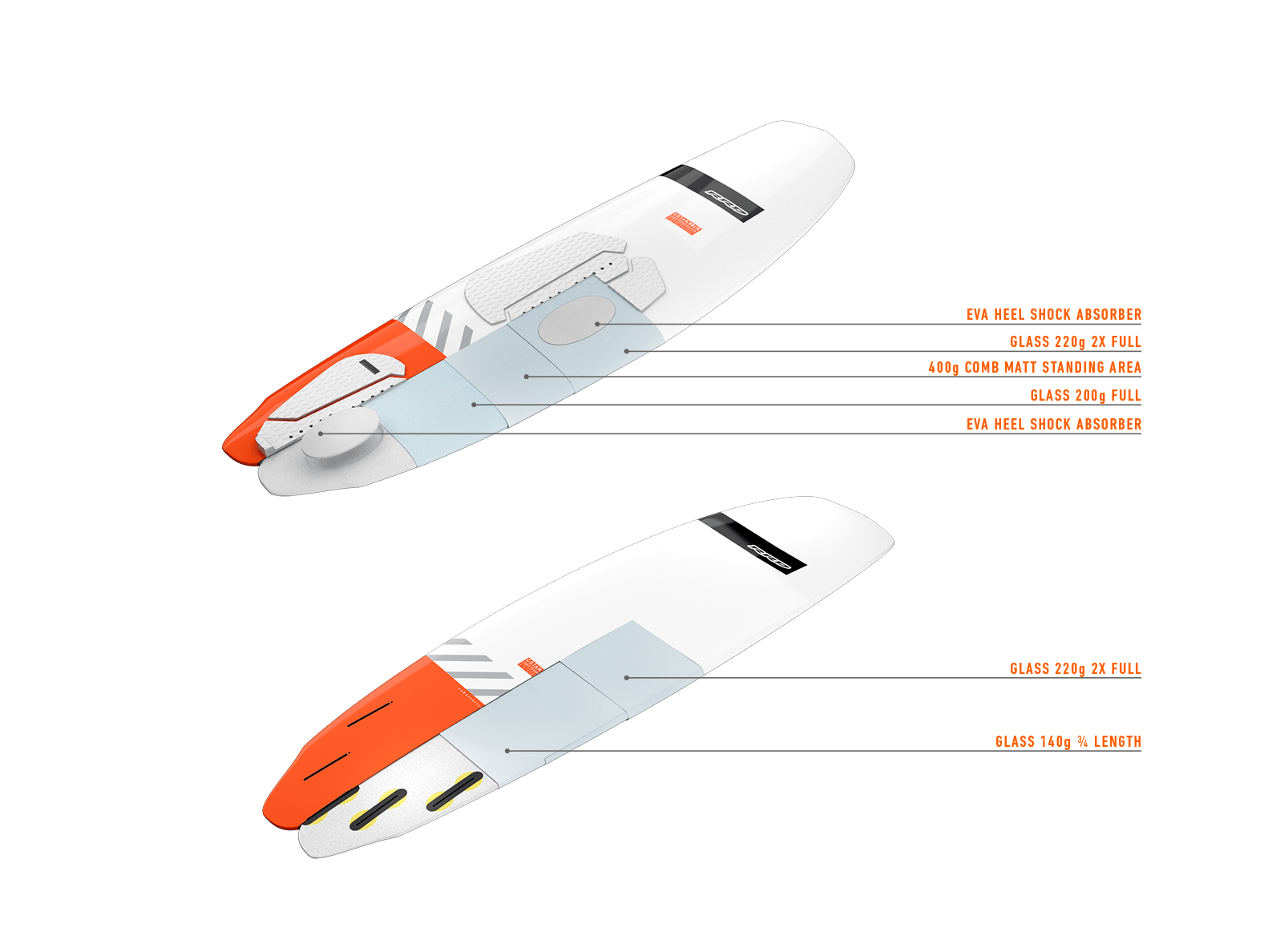 | MODEL | SIZE " | VOLUME "LTS" | FINS | ARTICLE CODE |
| --- | --- | --- | --- | --- |
| COTAN V3 LTE 5'2″ | 5'2″x18″x2″ | 22 | K4 for RRD Thruster Set | 23COT52LTE |
K4 X RRD – THRUSTER SET
INCLUDED