The Four is our powerful 4 batten wave sail. Plenty of drive and plenty of power to keep you going through everything. Whether it's on the wave or in the air, the powerful compact foil of the Four gives you huge amounts of drive and response.
The Four continues to be a favourite amongst those riders who like to have some power in their hands. For the MK6 we combined feedback from both the Four and the Vogue, to continue to move the Four forward, taking some of the control features of the Vogue, but applying them to the powerful foil of the Four. The result is the same levels of power, acceleration and feeling that Four users have always loved, but with higher levels of control at the top end.
This is the sail for the rider that wants to feel the sail in the hands and use that feeling and feedback to add explosion through their moves.
NEW U-Clew system
NEW Redesigned tack fairing
NEW Integrated Trim System
NEW Head protection
Customised printed X-ply – specific thickness and x-ply layup according to our demands, with the graphic sandwiched inside for long term durability
Head curve – Reduction in the top batten length to reduce tip swing weight
Cross panel construction – Using panel layout to give heavy-duty support along load lines
Target Window – High visibility window surrounded by reinforce X-ply perimeter to give ultimate strength and vision
NEW for the MK6 is a full double seam offering unrivalled durability
3.7 / 4.0 / 4.2 / 4.5 / 4.7 / 5.0 / 5.3 / 5.7
in WINDSURFING MAG UK:
"Lightning acceleration and good speed… Super stable, powerful and excellent for short radius… an easy sail to control in a range of conditions."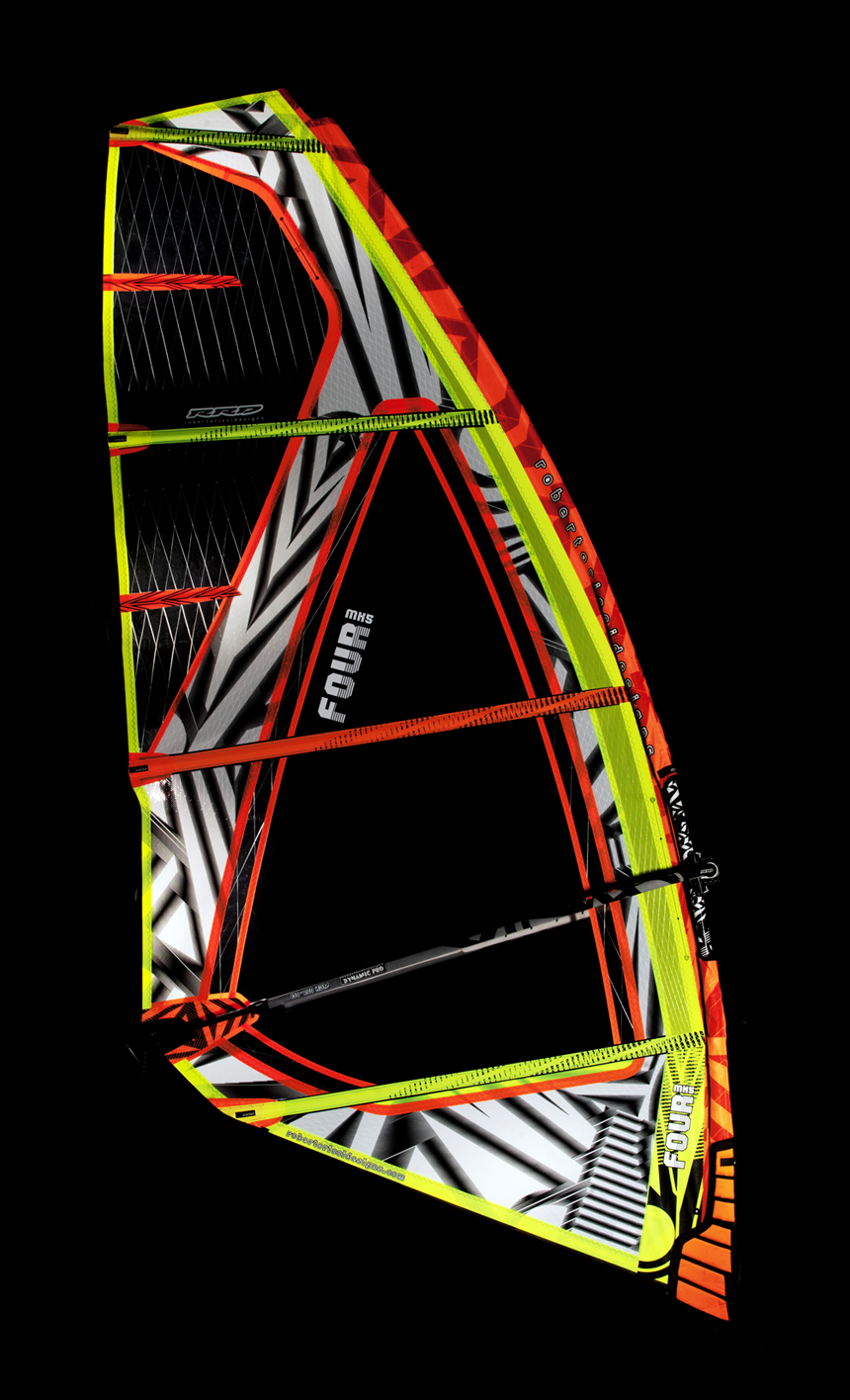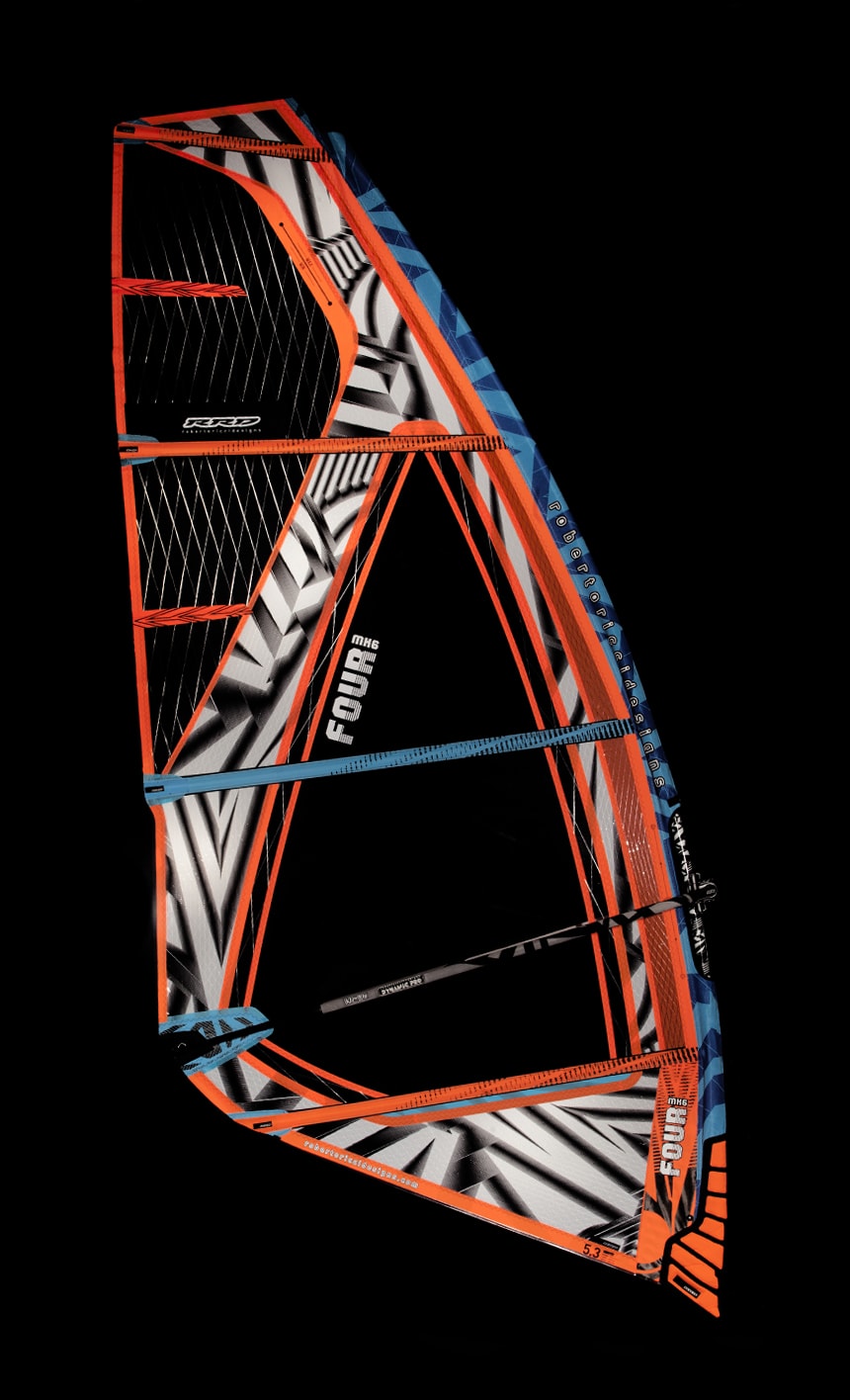 | FOUR MK6 | LUFF | BOOM (±2cms) | BATTENS | REC. MAST | HEAD | ART. CODE |
| --- | --- | --- | --- | --- | --- | --- |
| 3.7 | 349 | 149 | 4 | RDM 340 | ADJ. | 46300006 343.7/353.7 |
| 4.0 | 366 | 153 | 4 | RDM 340 | ADJ. | 46300006 344.0/354.0 |
| 4.2 | 375 | 156 | 4 | RDM 370 | ADJ. | 46300006 344.2/354.3 |
| 4.5 | 388 | 160 | 4 | RDM 370 | ADJ. | 46300006 344.5/354.5 |
| 4.7 | 396 | 163 | 4 | RDM 370 | ADJ. | 46300006 344.7/354.7 |
| 5.0 | 408 | 169 | 4 | RDM 400 | FIXED | 46300006 345.0/355.0 |
| 5.3 | 419 | 173 | 4 | RDM 400 | FIXED | 46300006 345.3/353.3 |
| 5.6 | 429 | 177 | 4 | RDM 400 | FIXED | 46300006 345.7/355.7 |