Our radical 3 batten design with increased power and smother handling. Incredible light and amazingly manoeuvrable, this is the sail for wave riding rippers.
The Gamma has proved to be hugely popular amongst the wave riding enthusiasts. Power through the bottom turn and incredible handling off the top; This characteristic blend is the wave riders dream. The 3 batten frame allows the sail to move with the rider, forgiving any mistakes. Our goal for the MK3 was to increase the low end power and we achieved this through increased shaping and modifications to the outline. Furthermore we smoothed out this additional power by switching to a Dacron luff panel.  Overall the Mk 3 has more power, easier handling allowing more freedom to express on the wave.
Optimised for surfing the wave, but highly capable in the air.  This is the sail for the rider who prioritizes riding.
NEW U-Clew system
NEW Redesigned tack fairing
NEW Integrated Trim System
NEW Head protection
Customised printed X-ply – specific thickness and x-ply layup according to our demands, with the graphic sandwiched inside for long term durability
Head curve – Reduction in the top batten length to reduce tip swing weight
Cross panel construction – Using panel layout to give heavy-duty support along load lines
Target Window – High visibility window surrounded by reinforce X-ply perimeter to give ultimate strength and vision. NEW for the MK3 is a full double seam offering unrivalled durability
3.3 / 3.7 / 4.0 / 4.2 / 4.5 / 4.7 / 5.0 / 5.2
PLANCHE MAG "Coup de Coeur" April 2017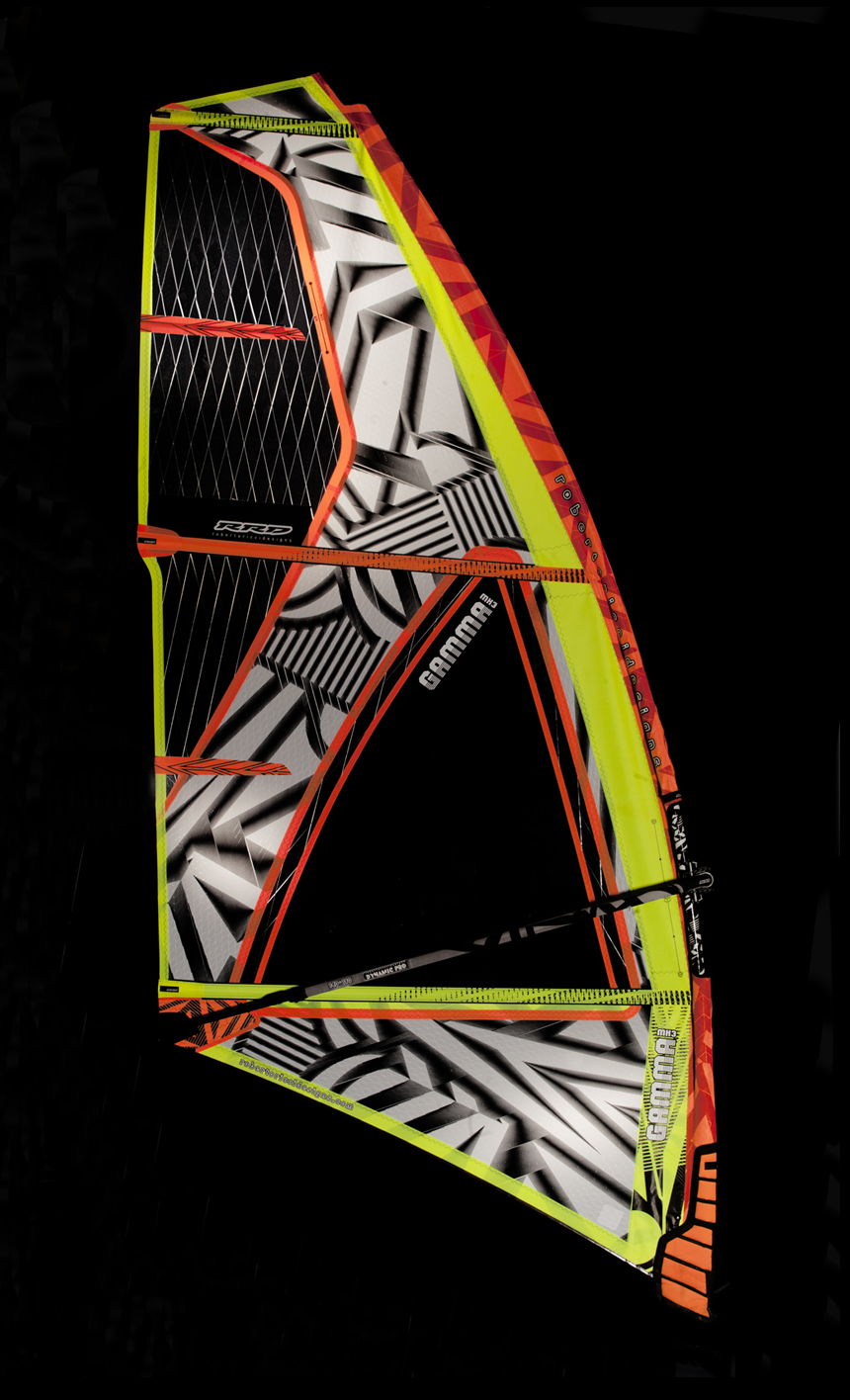 | GAMMA MK3 | LUFF | BOOM (±2cms) | BATTENS | REC. MAST | HEAD | ARTICLE CODE |
| --- | --- | --- | --- | --- | --- | --- |
| 3.3 | 343 | 145 | 3 | RDM 370/340 | ADJ. | 21GAM 343.3/353.3 |
| 3.7 | 352 | 152 | 3 | RDM 370/340 | ADJ. | 21GAM 343.7/353.7 |
| 4.0 | 367 | 157 | 3 | RDM 370/340 | ADJ. | 21GAM 344.0/354.0 |
| 4.2 | 376 | 160 | 3 | RDM 370 | ADJ. | 21GAM 344.2/354.2 |
| 4.5 | 388 | 164 | 3 | RDM 370 | ADJ. | 21GAM 344.5/354.5 |
| 4.7 | 397 | 168 | 3 | RDM 370 | ADJ. | 21GAM 344.7/354.7 |
| 5.0 | 409 | 171 | 3 | RDM 400 | FIXED | 21GAM 345.0/355.0 |
| 5.2 | 418 | 174 | 3 | RDM 400 | FIXED | 21GAM 345.2/355.2 |