Our radical 3 batten design with power, smother handling and incredible release. Remarkably light and amazingly manoeuvrable, this is the sail for pure wave riding rippers.
John Skye NOTES:
The Gamma has proved to be hugely popular amongst the wave riding enthusiasts. Power through the bottom turn and incredible handling off the top; the 3 batten frame allows the sail to move with the rider, forgiving any mistakes.
Last year we made some radical changes to the Gamma. By adjusting the aspect ratio and introducing a Dacron luff panel to the sail, we increased the power but also softened this power, to give the Gamma an incredibly forgiving nature when wave riding. The test results proved we hit exactly the right spot. For the MK4 we added the new power clew, allowing further tuning ability between power and control, for an even bigger range of use. Plus with the new Performance construction, we reduced the weight even further, making this the lightest sail in the range.
NEW Performance construction – Complex mix of materials throughout the sail to give the perfect blend of light weight, strength and style.

NEW Power-Clew system

Integrated Trim System

Customised printed X-ply – specific thickness and x-ply layup according to our demands, with the graphic sandwiched inside for long term durability.

Head curve – Reduction in the top batten length to reduce tip swing weight

Cross panel construction – Using panel layout to give heavy-duty support along load lines.
3.3 / 3.7 / 4.0 / 4.2 / 4.5 / 4.7 / 5.0 / 5.2
PLANCHE MAG (FRA) "Coup de Coeur" April 2017
"It is a toy in the hands, extremely easy to surf with precision and minimal effort. It is the most exclusive sail from RRD, for beautiful conditions and powerful wave."
WINDSURF JOURNAL (FRA) September 2014
"The RRD team did a great job making this sail suitable for everyone. Light, comfortable and stable, everything is there."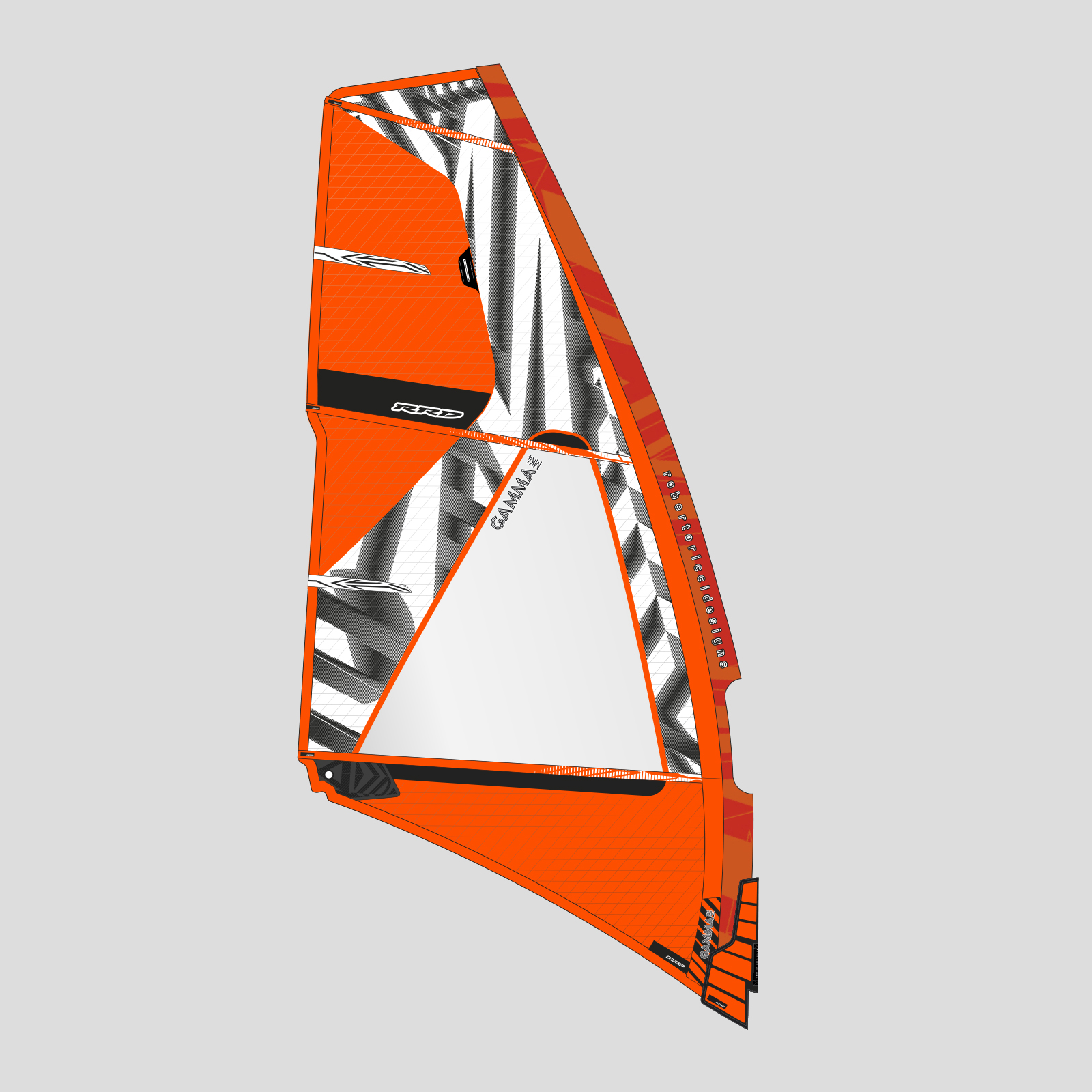 | GAMMA MK4 | LUFF | BOOM (±2cms) | BATTENS | REC. MAST | HEAD | ARTICLE CODE |
| --- | --- | --- | --- | --- | --- | --- |
| 3.3 | 341 | 140/145 | 3 | RDM 370/340 | ADJ. | 23GAM 3.3 |
| 3.7 | 353 | 147/152 | 3 | RDM 370/340 | ADJ. | 23GAM 3.7 |
| 4.0 | 366 | 152/157 | 3 | RDM 370/340 | ADJ. | 23GAM 4.0 |
| 4.2 | 375 | 155/160 | 3 | RDM 370 | ADJ. | 23GAM 4.2 |
| 4.5 | 387 | 159/164 | 3 | RDM 370 | ADJ. | 23GAM 4.5 |
| 4.7 | 397 | 162/167 | 3 | RDM 370 | ADJ. | 23GAM 4.7 |
| 5.0 | 409 | 166/171 | 3 | RDM 400 | FIXED | 23GAM 5.0 |
| 5.2 | 418 | 169/174 | 3 | RDM 400 | FIXED | 23GAM 5.2 |