FREEWAVE /WAVE ONSHORE / FREEMOVE
6 battens in the large sizes 5 battens in the smaller sizes, the Move offers plenty of power and huge amounts of stability. Whether its flat water blasting, bump and jump or waves, the Move does it all.
The Move has proved over the years to be the most successful sail in our line up. Its continued domination of magazine tests in all sizes, makes it very hard to beat. Morphing through the sizes from a 5 batten power wave in the 4.2 through to a 6 batten blaster in the 7.2, each size of the Move is designed to maximise the conditions. In the smaller sizes this means control, which has been further improved in the MK5.  Then as the sizes increase the sail smoothly changes towards more flat water usage, with the 6.7 and 7.2 offering a more locked down blastabilty. Every sail is highly tuneable and has an unrivalled range.
This is for the rider that is after power, drive and stability, to maximize any conditions, on any board. From a large Firemove to small Wave Cult. The perfect "go anywhere" tool.
7.2 / 6.7 – 6 batten blasters with a sporty throw-about feel
6.2 / 5.7 – 5 batten power sail to bump, jump and blast
5.2/4.7/4.2 – 5 batten power wave/freestylewave sail
NEW U-Clew system
NEW Redesigned tack fairing
NEW Integrated Trim System
NEW Head protection
Customised printed X-ply – specific thickness and x-ply layup according to our demands, with the graphic sandwiched inside for long term durability
Head curve – Reduction in the top batten length to reduce tip swing weight
Cross panel construction – Using panel layout to give heavy-duty support along load lines
NEW for the MK5 is a full double seam

 

around the window offering unrivalled durability
5 Battens – 4.2 / 4.7 / 5.2 / 5.7 / 6.2
6 Battens – 6.7 / 7.2
FEATURED IN WINDSURFING MAG UK:
"For a go-anywhere tool, the Move 5.2 is the possibly wisest pick you'll make for some time".

Plance Mag "Coup de Coeur" October 2016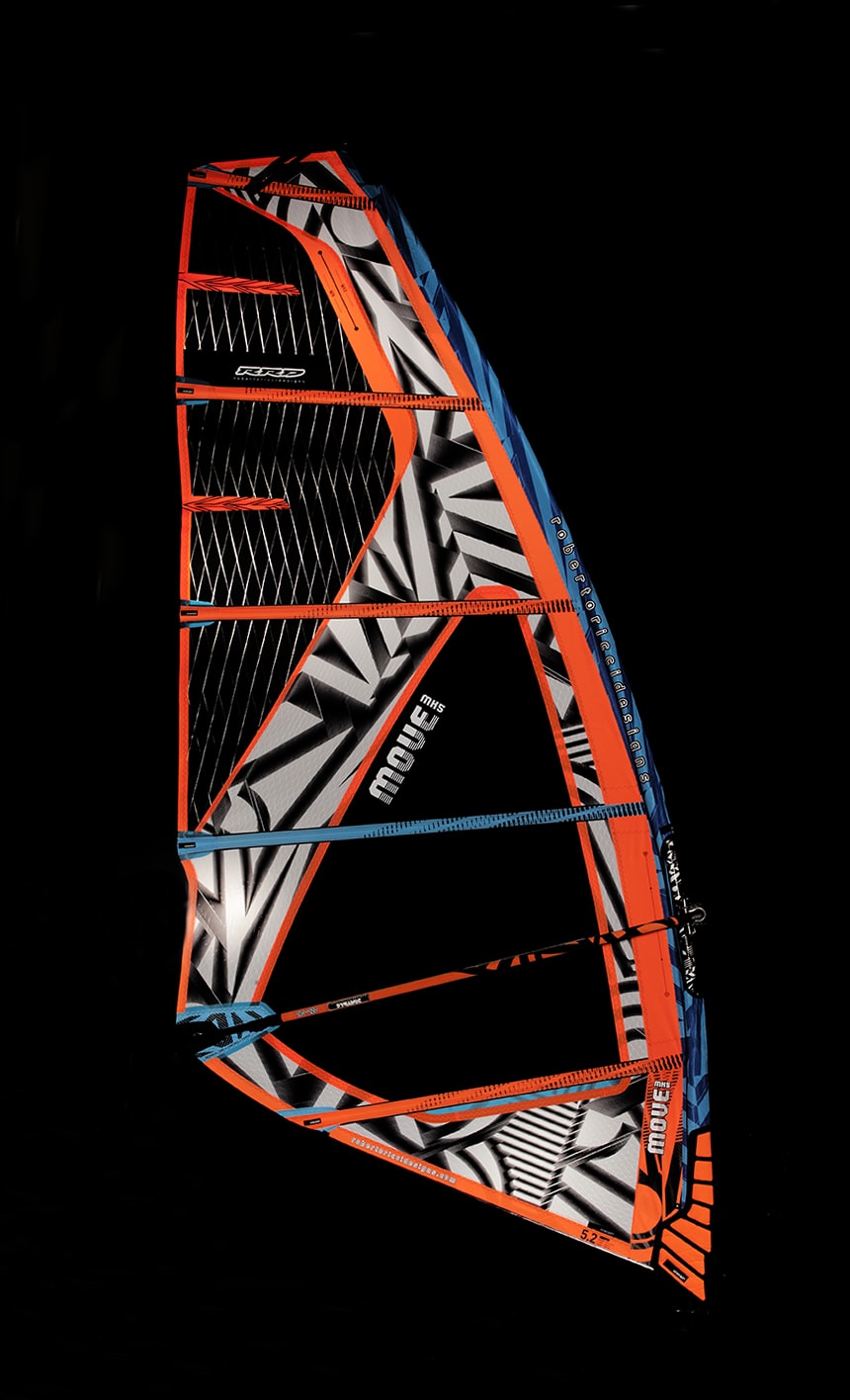 | MOVE MK5 | LUFF | BOOM (±2cms) | BATTENS | REC. MAST | HEAD | ARTICLE CODE |
| --- | --- | --- | --- | --- | --- | --- |
| 4.2 | 377 | 154 | 5 | RDM 370 | ADJ. | 21MV 344.2/354.2 |
| 4.7 | 404 | 164 | 5 | RDM 400 | ADJ. | 21MV 344.7/354.7 |
| 5.2 | 426 | 175 | 5 | RDM 400 | ADJ. | 21MV 345.2/355.2 |
| 5.7 | 435 | 182 | 5 | RDM 430 | FIXED | 21MV 345.7/355.7 |
| 6.2 | 448 | 190 | 5 | RDM 430 | FIXED | 21MV 346.2/356.2 |
| 6.7 | 458 | 196 | 6 | RDM 430 | FIXED | 21MV 346.7/356.7 |
| 7.2 | 470 | 202 | 6 | RDM 460 | FIXED | 21MV 347.2/357.2 |