Whether it is attacking the lip at Hookipa or launching into a backloop at Pozo, the Vogue is the sail for you. Unrivalled control, neutral power and incredibly balanced.  This is the sail of choice of Vice-World Champion Alex Mussoilini Available in both "Pro" construction and full 100% X-ply "Vogue HD".
John Skye NOTES:
Our most refined wave sail thanks to the extensive work of Andrea Rosati and Vice-World Champion, Alex Mussolini. This year thanks to the new "Performance construction" we shredded a precious 300g off the sail, with the majority of that saving up high where it is most noticeable. Also the additional of the Power Clew system gives 2 positions for the outhaul, giving a boost of power in the outer eyelet and ultimate control on the inside. The already versatile Vogue just got even better.
"I use the Vogue everywhere I go from Maui to Pozo to Denmark, winning in Sylt in some of the hardest and lightest onshore conditions we have ever seen. I love how the Vogue stays controllable no matter what and allows me to focus on my moves in the heat of the moment".
Alex Mussolini – Vice World Champion 2017. 1st Place Sylt PWA 2017
NEW Performance construction – Complex mix of materials throughout the sail to give the perfect blend of light weight, strength and style.

NEW Power-Clew system.

Integrated Trim System.

Customised printed X-ply – specific thickness and x-ply layup according to our demands, with the graphic sandwiched inside for long term durability.

Head curve – Reduction in the top batten length to reduce tip swing weight.

Cross panel construction – Using panel layout to give heavy-duty support along load lines.
2.7 / 3.0 / 3.4 / 3.7 / 4.0 / 4.2 / 4.5 / 4.7 / 5.0 / 5.3 / 5.6
SURF MAGAZINE (DE) Jan/Feb 2017
"the Vogue Pro fully scores at strong winds , no matter how gutsy its going to be, and on big waves. You can control it very easily, lay it down and bring it back up without any effort or pressure."
WINDSURF MAG (UK) February 2016
"The Vogue offers supremely light, clean and dependable handling over an impressive wind range, giving it the capacity to fulfill many roles. Conventional to set correctly and easy to get on with, it was liked by all who used it. Recommended."
VOGUE MK9 PRO
Only available in ORANGE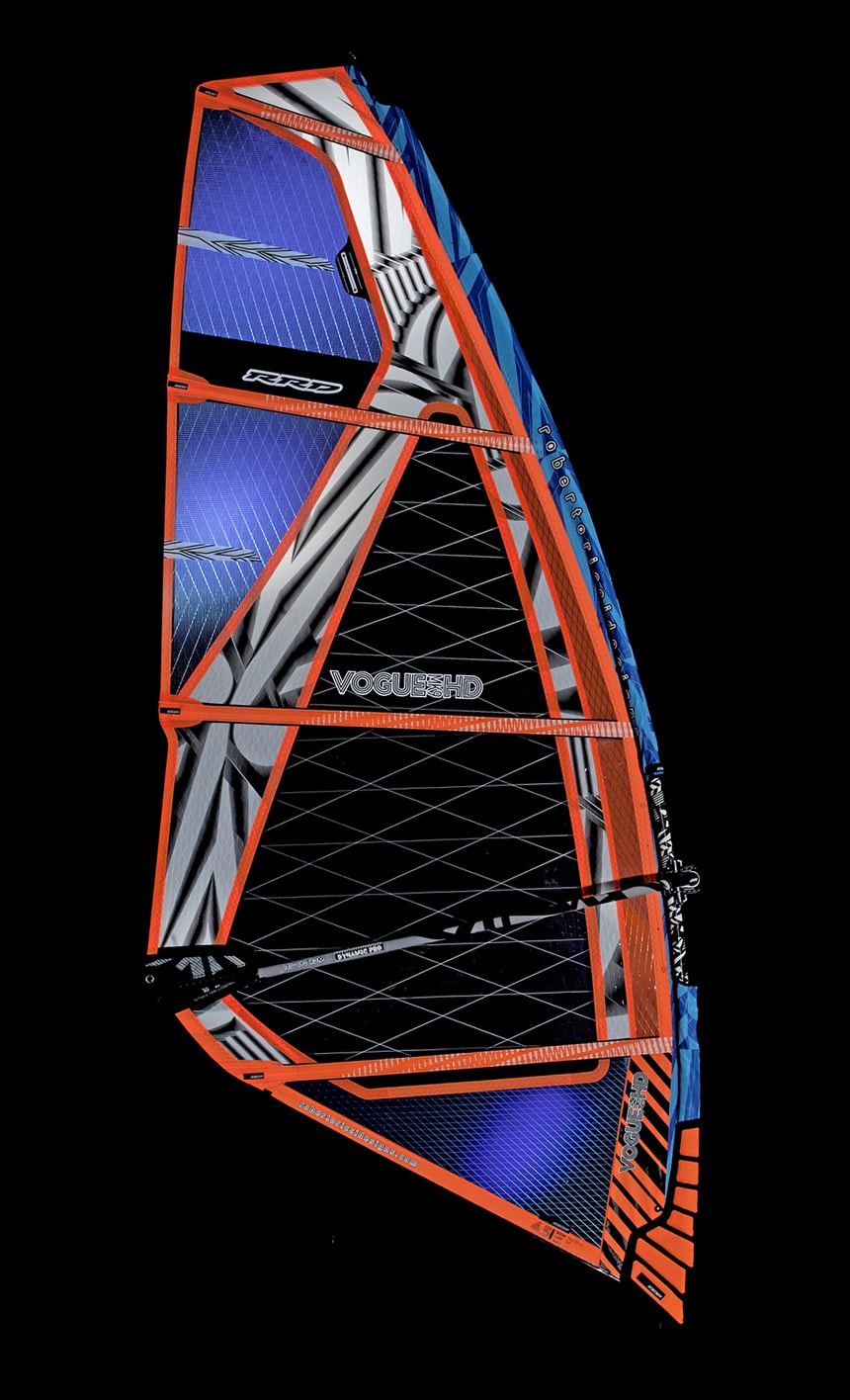 VOGUE MK9 HD
Only available in BLUE
| VOGUE HD/PRO MK9 | LUFF | BOOM (±2cms) | BATTENS | REC. MAST | HEAD | ART. CODE (VOUGUE HD) | ART. CODE (VOUGUE PRO) |
| --- | --- | --- | --- | --- | --- | --- | --- |
| 2.7 | 300 | 139/144 | 4 | RDM 310 | ADJ. | 23WV2.7 | 23VP2.7 |
| 3.0 | 320 | 140/145 | 4 | RDM 310 | ADJ. | 23WV3.0 | 23VP3.0 |
| 3.4 | 340 | 143/148 | 4 | RDM 340 | ADJ. | 23WV3.4 | 23VP3.4 |
| 3.7 | 358 | 146/151 | 4 | RDM 340 | ADJ. | 23WV3.7 | 23VP3.7 |
| 4.0 | 376 | 149/154 | 4 | RDM 370 | ADJ. | 23WV4.0 | 23VP4.0 |
| 4.2 | 385 | 151/156 | 4 | RDM 370 | ADJ. | 23WV4.2 | 23VP4.2 |
| 4.5 | 395 | 154/159 | 4 | RDM 370 | ADJ. | 23WV4.5 | 23VP4.5 |
| 4.7 | 404 | 156/161 | 4 | RDM 400 | FIXED | 23WV4.7 | 23VP4.7 |
| 5.0 | 413 | 159/164 | 4 | RDM 400 | FIXED | 23WV5.0 | 23VP5.0 |
| 5.3 | 422 | 163/168 | 4 | RDM 400 | FIXED | 23WV5.3 | 23VP5.3 |
| 5.6 | 428 | 168/173 | 4 | RDM 400 | FIXED | 23WV5.6 | 23VP5.6 |